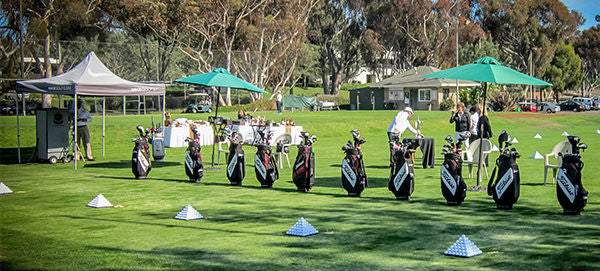 The Golf Shop at Torrey Pines
Corporate Clinics
GOLFSCHOOL
Corporate Golf Clinics by
Head Golf Professional Joe DeBock, PGA
Torrey Pines is proud to offer informative and fun clinics for your employees by our veteran Head Golf Professional, Joe DeBock, PGA. Joe's experience gained by performing hundreds of clinics over the years means your group will be engaged and having fun throughout the event. Group clinics are a great alternative to playing the golf courses. Our corporate clinics entertain and benefit all skill levels from beginner to veteran club players.
Clinic Framework
Corporate clinics are 90 minutes long with a fixed per person rate of $75 each. We book events with as few as 8, up to a maximum of 150 participants. Golf equipment is provided at no additional charge. A popular addition is food and beverage catering available through the Lodge at Torrey Pines.
Clinic Formats - Skills Development or Skills + Fun
Choose between two clinic formats tailored to your individual needs and sure to be fun for all participants.
Format One: Emphasis on Skills Development
Your event kicks off with a 15 minute informative presentation that includes introductions and fundamental skills demonstration by the Head Golf Professional. Depending on the size of your group, 2 to 6 skill stations will be set-up, each facilitated by one of Joe's staff golf instructors. Example skill stations include the full swing with an iron, hitting it long with a driver, and a variety of short game shots such as chipping, pitching, putting and bunker shots. Participants will visit each station over the course of the clinic.
Format Two: Skills Plus Fun Competition
This clinic also starts with an entertaining golf skill demonstration by Joe. Afterwards, your participants will visit up to 6 stations featuring a different golf shot such a tee shot with driver, chipping, or putting. Facilitated by one of our staff professionals, the shot featured at the station is demonstated and taught to the players. After some practice, each participant is awarded points based on how well they executed the shot. An award ceremony afterwards recognizes high scoring participants.
For a unique experience for your guests, there will be picture taking opportunities with our official replica of the U.S. Open trophy. A public address system will be available for announcements and introductions. Background music during your event will also be available.
Your order ships for FREE when it subtotals $125 or more.
No need for discount codes...shipping will automatically be free as soon as
your cart totals $125 or more from selected merchandise.
Some restrictions apply.
Offer excludes artwork and novelty items that are dropped shipped from the manufacturer directly to the shipping address entered at checkout.
Qualifying orders will have the shipping fees waived at checkout.
If you have questions please send a message to: support@tpclubcorp.com 
---
Share this Product
---
More from this collection